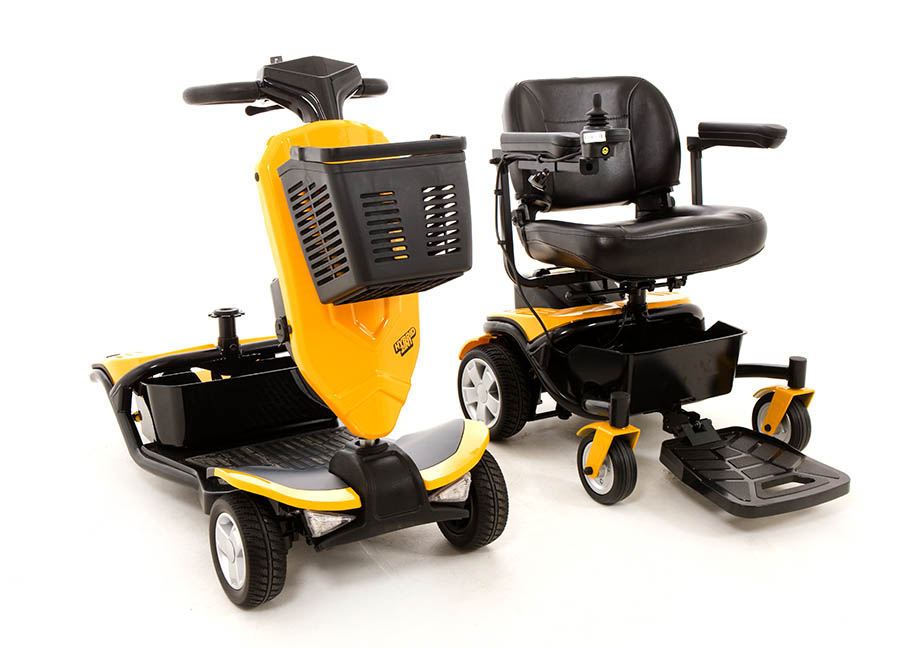 There's a lot of choice on the market when it comes to mobility scooters. From a folding mobility scooter to a lightweight mobility scooter and even an off road mobility scooter, there's something for everyone. Mobility retailer Monarch Mobility are set to take things to the next level by combining a mobility scooter with a powerchair in their latest 2-in-1 offering.
They describe their Hybrid 2-in-1 as having the "DNA" of both mobility scooters and powerchairs to create the ultimate machine. It will give users the best of both worlds and mean that they won't have to choose between either option – or keep both on them just in case.
This unique and interesting design combines all the elements of a mobility scooter and powerchair and it comes in a range of four colours for the personal touch. The Hybrid can be changed from one device to another in a matter of minutes. It's the ideal solution to anyone looking for full indoor and outdoor mobility from their electronic support vehicle.
One great thing about the Hybrid 2 is that it can fit into most cars or large vehicles. The heaviest part of the machine is around 16.6kg so it shouldn't be too difficult for people to manage and lift, especially with the aid of a wheelchair lift.
As a powerchair the Hybrid has a maximum weight capacity of 21 stones. It can reach speeds of up to 4MPH and has an average travel radius of 15 miles depending on the user weight and environment it is being driven in.
When converted into a mobility scooter, the Hybrid offers LED lighting, electromagnetic brakes, and an off-board charging facility. It also comes equipped with some storage space for shoppers to keep things under the seat, as well as a shopping basket mounted to the front of the vehicle.
The Hybrid 2 will no doubt be a big hit with customers when it is showcased and unveiled to the world. Monarch Mobility say they are proud of their Hybrid 2 and continue to be committed to the development of the future of mobility scooters. Their mobility scooters for sale always stand out from the crowd and are worth taking notice of.
The Hybrid is set to debut at Naidex where the company will be taking feedback and hoping to spark some excitement about it – and their other products. The company are known for being at the forefront of development of mobility scooter technology. Their new Hybrid 2 is sure to be a hit and it's exciting to think of what they'll come up with next.
Mobility scooters are a real godsend to the people that need them. They ensure people have the mobility and freedom to keep living a regular life. The same can be said of wheelchairs and powerchairs. Having something that combines both options into one is going to make life easier for the people that would otherwise have to choose one or the other.
Visit Monarch Mobility