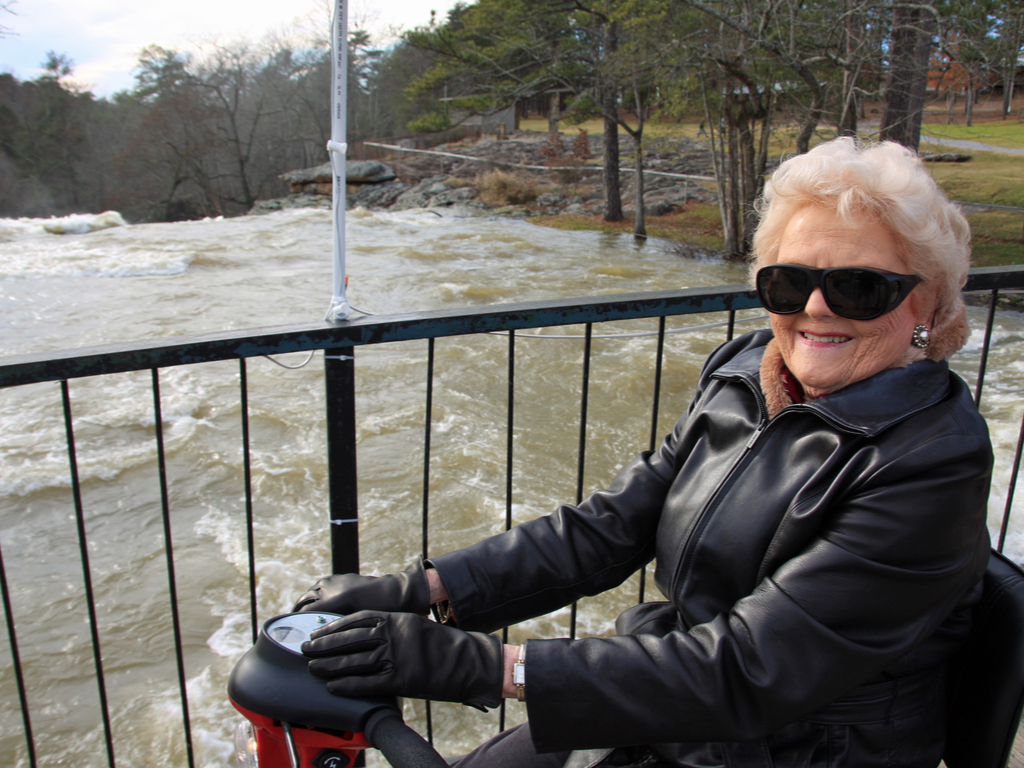 A mobility scooter is a blessing for those who need one. These scooters give you back your freedom and independence. A scooter makes it easy to get around so you get back your confidence knowing you can travel down the road if you have to. Scooters are also simple to use. Once you sit down on the scooter, you can relax and drive toward your destination. If you have physical difficulties or get worn out easily, then a scooter helps you avoid injuries from over-excursion and exhaustion. It also reduces the stress of general life.
Comfort is key for owning and riding a mobility scooter. Being able to sit comfortably reduces the aches and pains of moving too much – or too little. Here is our FAQ covering the most basic questions and concerns people have regarding mobility scooters.
1. Why should I get a mobility scooter?
If you have problems walking for extended periods or have trouble with walkers, crutches, or a cane, then mobility scooters can help. Those who deal with long-term joint pain problems including rheumatoid arthritis can also benefit from owning and using a mobility scooter.
2. How can a scooter help me?
Using a mobility scooter reduces the risk of fall-related injuries. There are plenty of other reasons why someone might benefit from using a mobility scooter. They can help when recovering from surgery, for example. Using a mobility scooter limits how much you need to exert yourself to move around. Scooters can help anyone who has trouble with constant movement.
3. Should I get a three-wheel or four-wheel scooter?
The short answer here is that a four-wheel scooter is better than a three-wheel one. Four-wheel scooters offer more stability over a three-wheel option. The extra stability makes them a better option for people who plan on spending time on uneven outdoor terrain. A four-wheel scooter is configured like an automobile with two wheels each at the front and rear.
4. Are mobility scooters waterproof?
We all know the dangers of mixing electricity (and electrical equipment) with water. However, feel free to ride your scooter in the rain. As with any other vehicle, you should be more careful and move slower when using a motorized scooter in wet weather. If you're looking at a torrential downpour, then you should consider covering yourself and your scooter to protect you and the electrical equipment from the rain.
5. How come mobility scooters are so expensive?
The cost is always a big downside of getting a mobility scooter. A road-legal mobility scooter is more expensive because it needs to have a powerful motor and be more robust and durable. These machines also need better brakes, lights, and mirrors than other scooters. Remember, a road-legal mobility scooter can travel up to 8MPH for 20 miles.
6. Can a scooter tip over?
Some mobility scooters come with anti-tip devices on the rear wheels. These prevent your scooter from tipping backwards if you go up a slope that's just too steep. The manufacturer/retailer may fit these devices so they fit at the best angle.
Final Thoughts
Everyone understands the benefits of having an active social life for your emotional and mental health and wellbeing. Being able to spend time outdoors and travel is a major part of socializing. Count on a mobility scooter to help you get around.